2022 年 2 月 28 日,我在區塊鏈上成立了 DHK dao,並草擬了〈DHK 宣言〉,定下初始框架。
---
DHK 宣言
願景:為港人建立共識。
使命:為麻瓜提供區塊鏈、密碼貨幣及無大台相關技術的普及教育。
實踐:在各區塊鏈經營由用戶自治的驗證人。
共識:採用「懶惰共識」機制,日常運作預設社群支持,直至有人表達不同意向。
治理:1 DHK 1 票,涵蓋促進以上願景、使命或行動,並能於賽博空間實踐的議題。
文化:pay it forward,持續給出 1 DHK,轉化別人成為密碼貨幣使用者。
守則:能力越大,責任越大。持有越多 DHK,肩負越大轉化麻瓜的責任,直至手上只剩 1 DHK。底線為把自有 1 DHK 以外的全數出售。
終局:讓 7,000,000 人持有 7,000,000 DHK。
v0, 2022.02.28
---
Declaration of DHK
Vision: building consensus among Hong Kong people.
Mission: to educate muggles on blockchain, cryptocurrency and decentralization.
Operation: a validator across various blockchains, governed by her users.
Consensus: adopt lazy consensus. Community support is assumed unless someone says otherwise.
Governance: 1 DHK 1 vote, covering issues that can be digitally achieved to facilitate the vision, mission and operation.
Culture: Pay it forward. Always convert muggles into users of cryptocurrency and give them 1 DHK token.
Code of Conduct: with great power comes great responsibility. With more DHK, you have greater responsibility to convert muggles and give out all but 1 DHK. Bottom line, sell all but 1 DHK to the market.
End game: 7,000,000 DHK in the hands of 7,000,000 users.
v0, 2022.02.28
---
我盡了最大力氣把宣言寫得言簡意駭,中文版不含標點只有 194 字,分為 8 點,但幾乎每一點展開都會是一篇長文。為免大家消化不良,我會細水長流,日後才慢慢討論宣言引申的種種,反正 DHK dao 會是一生都做不完的功課,正所謂「長命工夫長命做」。
DAO 是區塊鏈圈的術語,不過我相信他日會成為日常用語,全稱 decentralized autonomous organization,分散式自治組織,廣義指由分散各地的持份者共治,以程式碼驅動的數位組織型態。
而 DHK dao,則是 #decentralizehk 把兩年來科普區塊鏈與密碼貨幣的能量,轉化為集體行動而成立的 DAO,以 DHK 為治理通證,每 DHK 代表一份投票權。有別於物理世界的投票權,由於以區塊鏈作底層,DHK 將有一定流通性,但並非用來投資,更不適宜炒賣。
讀萬卷書不如直接上路,首先請大家每人認領 1 DHK,加入 DHK dao 吧。
---
0️⃣ 事前準備
假如你電腦的 Chrome 或 Brave 瀏覽器已經安裝 Keplr 錢包外掛,DHK dao 只離你一步之遙。否則也並不困難,請先完成上月團拜領紅包活動的第 1 至 4 步,激活你的 Keplr 錢包。
---
1️⃣ 轉用 Juno 區塊鏈
打開 Keplr 插件,點選 [Cosmos Hub] 下拉菜單,往下捲,選擇 [Juno]。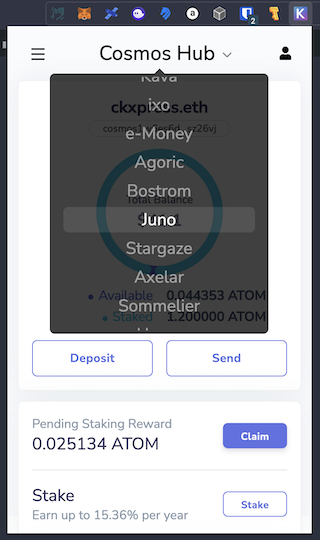 ---
2️⃣ 抄下錢包地址
點選 juno1xxx…,即可抄下錢包地址。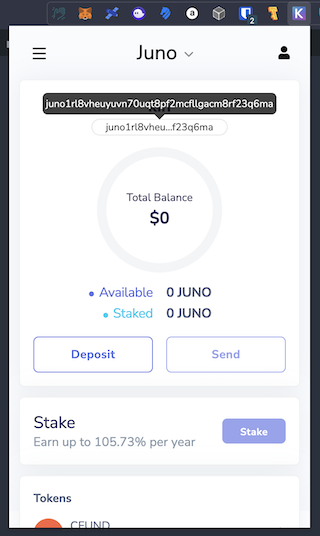 ---
3️⃣ 切勿重複留言
在以下回覆區留下你的錢包地址,你的留言不會馬上出現,切勿重複留言,志工會盡快轉帳 1 DHK 給你。切勿重複留言。
---
4️⃣ 瀏覽 DHK dao 網頁
收到 DHK 後,到 DHK dao 網頁,右上方會顯示結餘為 1 $DHK。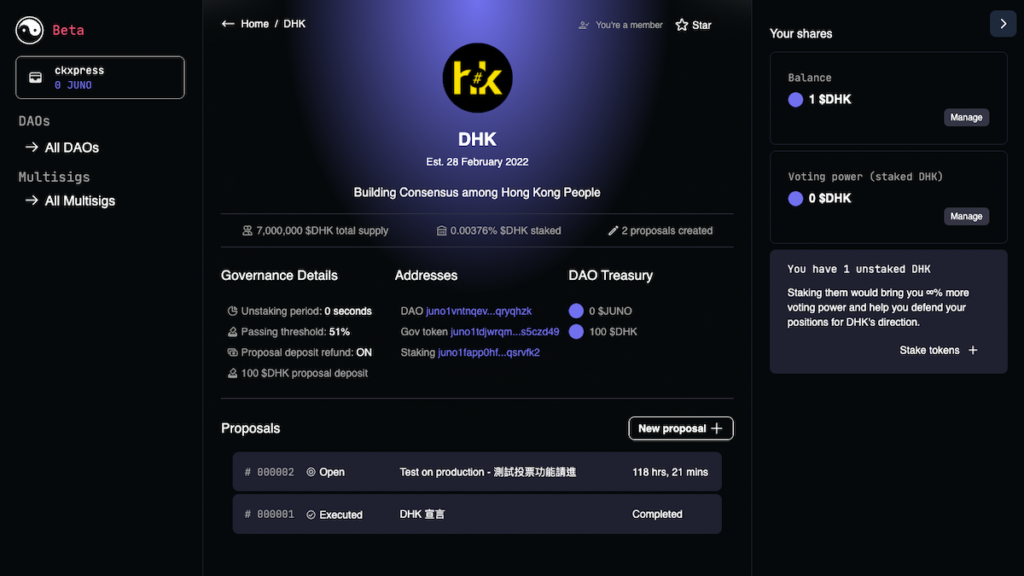 ---
5️⃣ 把 DHK 加入 Keplr 顯示
按 DHK dao 頁面上方的 [Star],在 Add Token 的彈出窗按 [Submit],就可在 Keplr 顯示 DHK 結餘。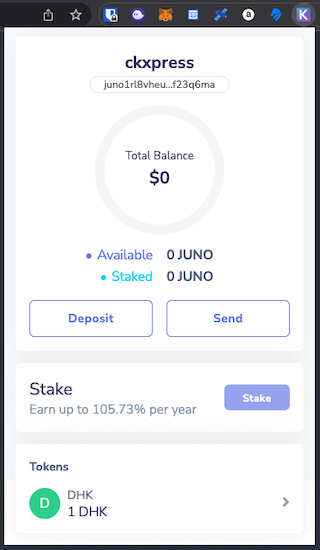 ---
至此,你不但已經踏足元宇宙,更初步參與了當中最潮最頂尖的協作方式,分散式自治組織。
且先讓子彈飛一會,給時間更多人加入,接下來我們再進一步介紹 DHK dao。
---
《區塊鏈社會學》週報,金錢、媒體與民主的再想像,實踐出版自由、財務自由和民主自由。文章逢週四刊出,直接送到訂戶郵箱。