Since 2018, I have been distributing LikeCoin red envelopes every year using the Lunar New Year as an excuse, and this is already the sixth year.
With the development of technology, the distribution method has changed every year. Starting from the most primitive and closest to tradition in 2018, commemorative coins that can be redeemed for LikeCoin online were placed inside paper envelopes. Later, people could simply leave their wallet addresses in posts to receive them. By last year, as the infrastructure matured, I invited everyone to follow the tutorial to set up their own self-managed LikeCoin wallet, and by leaving a comment, they could receive a red envelope. A total of 1,116 were sent out, which was quite tiring just to think about it.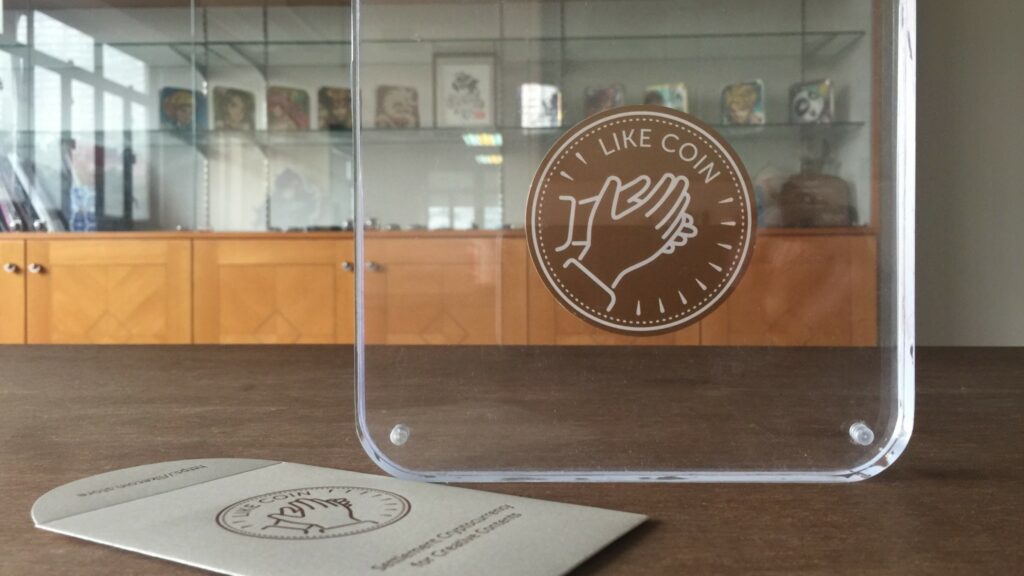 In this Year of the Rabbit, I learned to be lazy, entrusting the task to a bot, which helped me find readers who held my Writing NFTs, and then I sent my red packets and blessings to everyone in bulk.
If you are currently collecting any of my Writing NFTs, or have purchased the NFT book "Moneyverse: How money works in the multiverse", please search for your wallet address on Mintscan. You should have already received 388 LikeCoins, along with my blessings. So this is not only about practicing being lazy but also about using the Lunar New Year as a thanksgiving to thank those who have supported me in the past.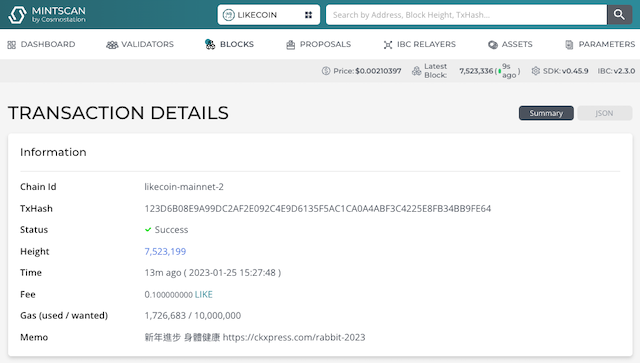 If you bought the book but didn't receive a red packet, it's most likely because you haven't claimed your NFT yet. It's like buying a pair of shoes online but not providing a shipping address, so the sender can't deliver the goods to you. I understand that everyone is busy, so I haven't been urging you. When you have time, please check your mailbox, search for the email sent to you from [email protected], and follow a few steps to claim it.
If you are also an author and want to reward readers who have collected your Writing NFTs, you may follow this tutorial to export a list and organize it using a spreadsheet. For example, you can sort by different criteria to reward your top fans, or offer different gifts based on the level of support.
The example in the video is about giving away Writing NFTs, which is more literary. I, on the other hand, used another tool to send LikeCoin in bulk, not only because it's more practical, but also to ensure all readers have some spare change on hand, making it easier for them to engage in the entire creative and reading ecosystem.
The amount of the red packet is just a small token of appreciation, not significant, but enough to collect other Writing NFTs, directly support authors, or ideally, stake with a trusted validator and participate in liquid democracy. In short, it's about taking action and being "as swift as a rabbit".
---
p.s. In the new year, the most important thing is to learn
Although I fully agree with and even try to protect the value of books, I do not call myself a "book lover". Maybe I am just a "book buyer". Many of the books in my bookshelf are not only unread but have been waiting for me to open them for years.
I am ashamed of this, but I know that this bad habit is quite common. After all, reading is just one of the motivations for buying books.
I don't buy books purely for collection purposes that I never intend to read. However, because my reading speed is far behind my impulse to buy books, over time, I have accumulated a lot of "physical NFTs" that I only store and never read—yes, books are like physical NFTs. I have expressed my support for the authors and their works, and as a result, collected a version of the works, some of which even have the author's autograph and may appreciate in value after going out of print. At the right time, I can also transfer these physical NFTs. As for reading, it's certainly my original intention, but it's only part of the whole meaning.
After writing about Z-Library last week, I was inspired to tidy up my bookshelf, download digital copies of some books I own, and let the corresponding physical NFTs drift away. Information is valuable when it is fluid. Having these books sit in my bookshelf not only takes up my space but also wastes their life. In the new year, the most important thing is to learn. If you are interested in any of the following physical NFTs, please send me an email, and I will find a way to mail them to you.
Although I don't think anyone would be interested in "Running Linux" from nearly thirty years ago (nor can I understand why I kept it for decades and moved it from one place to another multiple times), some are timeless masterpieces that I almost can't bear to let go. But when I think about the next person who will read them, I feel that the joy of reading alone is not as good as the joy of reading together.

---